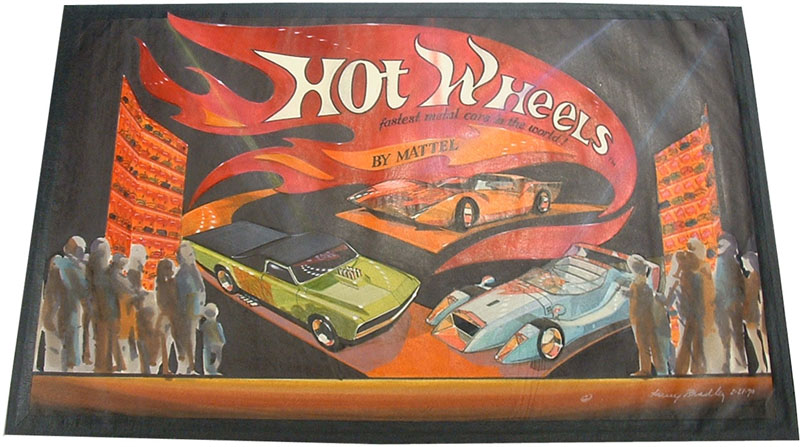 This was a proposal made to Mattel three years after I had left as the first Hot Wheels designer by myself and Dave Puhl – a moderately well known customizer at the time with a shop in Illinois. We thought Mattel should participate in auto shows nationwide with a Hot Wheels display consisting of:
Three full size, custom built running cars

A large overhead Hot Wheels display with logo

Left and right pylons made of current Hot Wheels cars

Ramps representing Hot Wheels tracks
The three cars shown:
Top car is a sleek mid-engine GT-styled roadster pickup I had designed for Puhl which he built a year or two before.

Left car: Puhl would build an exact copy of the Hot Wheels Fleetside Pickup using a 1967 full-size Chevy/GMC pickup. This was never built.

Right car: a racy futuristic hot rod I had designed for Puhl with a copper grille shell, copper headlight units, copper trimmed wheels and other copper detailing… Also never built.
Mattel chose not to undertake this program – and, other than the Fleetside Pickup, none of these cars ever became Hot Wheels models.
– Harry Bentley Bradley